Hot Tips to Keep Your Cool on Moving Day.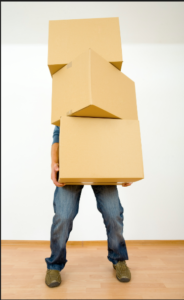 A Moveable Feat strives to make our customers' moving experience as stress-free as possible. We have gathered some of our best tips to help make your moving day a smooth and easy one.

CHOOSING A MOVING COMPANY
When shopping for prices – be sure to always ask about hidden fees: travel time, fees for stairs, extra surcharges for materials, parking fees. Many customers will get sticker shock at the end of their job. Interview your mover before hiring them!
SAVE A FRIENDSHIP- HIRE PROFESSIONALS
When moving heavy furniture – it's best to let the professionals move it. Save a friendship and hire cheap, affordable local movers to do a professional job for you.
BOX SIZE IS IMPORTANT
Always put heavy items like books in small boxes. Linens, clothes, pillows, blankets and other light items in large ones. Large boxes packed with heavy items make the job harder for movers and could cause items to break. Never leave empty spaces in a box as items will be jostled during transport. Fill extra space with clothing, scarfs, towels or packing paper.
CHOOSING THE RIGHT STORAGE FACILITY
The best step is to find a storage company that fits your needs. If you are storing large pieces of furniture or small items – location, hours and duration of storage should be factored in. If you are saving materials you do not need access to -you will get a cheaper price with a storage unit further out of a metropolitan center. Be sure the storage is licensed, insured, climate controlled, secure and ask about access hours.
MOVING WITH PETS
Purchase a sturdy travel crate (size dependent if you are flying or driving and breed / size of pet) and place a blanket and toys inside it a few days prior to move so your pets get used to the crate. Once the movers arrive, put your pet in the crate. Remember a nervous pet may try to escape. Always label the CRATE with signs PET INSIDE! DO NOT DISTURB.
RECYCLED BOXES MAKE GREAT COSTUMES
Save your moving boxes for rainy day, school or Halloween projects. Cardboard boxes make amazing children's costumes from Robots to Rubic Cubes. You can also use to stack up boxes to create a fantastical Halloween Spooky Castle Wall or cut out Tree Shapes from wardrobe boxes. All you need is a good pair of scissors, clear packing tape, sponge brushes, watercolor paint and a bit of imagination!.
PACKING ITEMS FOR AIR SHIPMENT
When mailing toys or electronic devices be sure to remove all batteries. Then wrap them separately and place next to the item in the gift box. Always use a strong box that will protect fragile items and be sure to stuff paper around and inside hollow items like vases or glassware. If you are mailing a framed photograph, it is a good idea to remove the glass pane and wrap this separately so it does not crack and possibly tear the photograph.
The better prepared – the better the moving experience!