Antique & Art Moving Tips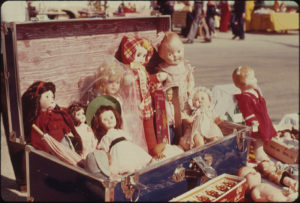 Everyone loves their family antiques whether it's a Biedermeier table, Paolo Piva bed frame or a William and Mary side chair. Family heirlooms are an important part of the family history. In order to continue to cherish these items and pass on to your family members, it's important to take several steps to ensure their condition  and value when moving. 
First, get an appraisal to find out the value of the item. Usually an appraiser charges a flat fee or an hourly rate. Be sure to call a few appraisers before hiring one.
If you are hiring a moving company for your move, make sure you contact the moving company to understand what type of insurance they have for antiques. If you need additional coverage, check your homeowners insurance policy to see if they cover items. If not, you will need to purchase additional coverage for the items.
Once you have the items properly insured, you can start to pack the items for storage or for a move. Be sure to have the proper packing supplies on hand.
Supplies check list
Packing Tape
Multicolor tissue paper
Kitchen paper
Bubble Wrap
Heavy-duty picture boxes (for framed, art, antique mirrors etc.)
Mover's Blankets (pads or paper pads)
Sharpies – Multiple color 

How to Pack Small Fragile Antiques
Small, fragile glass items should be wrapped in colored tissue paper so they do not get lost in the box filled with packing paper. Each item should be placed gently into a box and cushioned by crumpled up packing paper so packed items are separated and will not bump against one another in the box. When unpacking the colored tissue paper will allow you to remove the items with ease and no damage
How to Pack Large Furniture Items
For large antique items, wrap with movers blanket or a paper-pad. Secure tape to blanket, NOT THE WOOD as it will damage the finish. ALWAYS LABEL THE FRAGILE BOXES WITH BRIGHT RED or BLUE SHARPIE so it stands out from regularly labelled boxes for books, kitchen, bathroom, etc.
Moving Large Artwork
If an artwork is oversized and valuable, it would be better to hire an art moving service to crate the item. If you are placing the painting in storage make sure the unit is air controlled. Humidity can warp wood picture frames.
Further antique and art moving tips here:
THE SPRUCE
Art-Mine