Tip of The Day: Friends Don't let Friends Move Them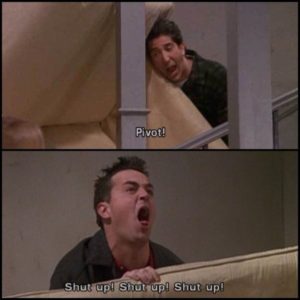 When moving heavy furniture – it's best to let the professionals move it. Save a friendship and hire cheap, affordable local movers to do a professional job for you.
Let your friends refer you to a local or long distance mover that can properly pack, move and store precious cargo.
Before you book a moving company – check with both the move out and move in buildings about any particulars the movers need to know for the day of move.
Here are some basic things your movers will need to know for your move:
Does your building require any of the following?
Certificate of Insurance
Workers Comp Certificate
Masonite for floor protection
Movers blankets for elevators
Service elevators reservations
Movers will also need to know details of the building such as:
Parking – street or on-site
Basement or Service Entrances
Hallways – long, narrow, winding
Stairwell – wide, narrow, winding
Movers give flat rates based on the description of the job. If there are unknowns and conditions that slow a move down – chances are your mover will raise your rate – sometimes significantly. Always check building requirements and be sure to inform your moving company about them.
Once your move has been completed – headache free with no hidden fees – invite your friends over for a housewarming party!