Best Holiday Packing, Shipping & Moving Tips for 2018
Another holiday season is upon us and we are sharing very useful tips for packing, decorating and transporting holiday gifts.
Whether you are sending it to the North Pole or North Florida, we have some quick tips and helpful links to keep you on track with all your seasonal planning.
1. When mailing toys or electronic devices be sure to remove all batteries. Then wrap them separately and place next to the item in the gift box. Always use a strong box that will protect fragile items and be sure to stuff paper around and inside hollow items like vases or glassware. If you are mailing a framed photograph, it is a good idea to remove the glass pane and wrap this separately so it does not crack and possibly tear the photograph.
2. When placing multiple wrapped, gift boxes in the shipping box, be sure each item fits snugly inside. If there is open space around any of the gift boxes, use colorful tissue paper to fill in any open areas of the shipping box. It will protect the gift boxes from moving around during transportation. Be sure to label each gift box you put inside the shipping box with a gift tag.
3. If you are packing food items – be sure you check with post office what is allowed. Use tin cans or proper food containers to protect Christmas cookies or your homemade fruit cake.
4. Be sure to label in big letters on the outside of the shipping box which side is UP, note if it's FRAGILE. Be sure to include a return address as well.
5. You can also add fun designs or a few stickers to the outside of the shipping box to make it festive.
We also gathered some creative, nifty gift wrapping and shipping ideas here:
GOOD HOUSEKEEPING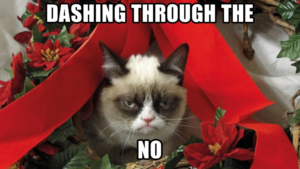 We wish everyone a happy, healthy Holiday Season and a Happier New Year 2018!